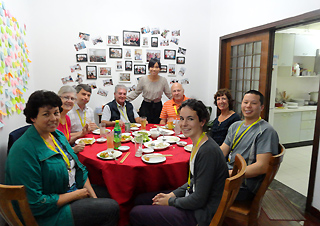 Thank you for allowing me to comment on my trip. Overall, the trip was fantastic. You did an amazing job in planning the trip to work as smoothly as it did.
BEIJING - Sara our guide was a delight - very knowledgeable and charming. A great guide and greatly recommended her. The tours in Beijing were perfect. All went off without a hitch. Lunch was terrific. Maybe we could have had an extra half hour to walk around the hutongs by ourselves. Hotel was good - but maybe, a bit closer in to the city centre would have helped. Lunch was brilliant - really enjoyed it. The Kung Fu show at the Red Theatre was fantastic. Terrific performance.
XIAN - Our guide Jacky, was a terrific host and a very funny guy. A great knowledge of the city. Really surprised with the City Wall. All the sights we saw in both cities were amazing. The Tang Music and Dance show was beautiful. Dumpling dinner was a treat as well. Location of the Hotel was A1 - just perfect.
GUILIN. After the big cities, the contrast here was great. Great to see the countryside and the Li River cruise was spectacular. Chin our guide was very good as well. Hotel was great. Stayed in the new section - so beautiful.
SHANGHAI. Great to see the sights of a bustling metropolis. Jimmy was a very knowledgeable guide. And had a remarkable trip of the city sights with him. A top class hotel at the Howard Johnson and a perfect location.
Both my wife and myself thoroughly enjoyed our trip and would recommended it to everyone who is thinking of going to China, then I will greatly recommend your company as A1 stars in organization.
Thank you again.
Best regards
Bruce and Anne Reberger
Name:

Mr. Bruce Reberger & Ms. Margaret Reberger

From:

Australian

E-mail:

optusnet.com.au|bareberger

ltinerary:

11 Days Small Group of Beijing - Xian - Guilin - Yangshuo - Guilin - Shanghai

Date:

5/20/2013