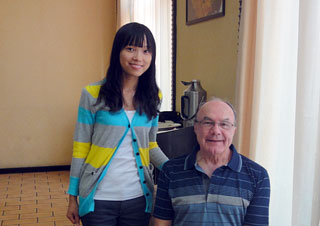 Dear Ms. Fang and Wang,
I want to thank you for the excellent job your company did in arranging my tour of China.
I want to tell you that I first tried arranging my tour through a Canadian travel agency, but was unable to find one that could meet my requirements. They all had prearranged tours with no options for me. I then searched the internet and stumbled upon your company's web site. I filled in the requirements for the tour that I wanted, and within hours was presented with a tour acceptable to me.
I wanted free time in certain cities to allow me to meet friends that I met through the internet in China.
I was concerned when the time came for payment to a Chinese company. Was the company reputable? Did they have a track record of happy customers? You presented me with emails of previous customers to contact....which I did. I also contacted my Chinese friends and asked them about the company. I was pleasantly surprised by the positive comments by everyone I contacted.
My guide met me on time at Beijing airport and took total control of my transport to the hotel. I had a professional driver and guide throughout my entire trip. There were no glitches. The service your company provided for me exceeded my expectations.
The restaurant choices were excellent and the food fantastic. The hotels, restaurants, tours, and information provided by the guides were amazing.
I can not think of one thing that you could do to make my trip any better. I would not hesitate to recommend your company to anyone that wants a smooth hassle free vacation to China.
Sincerely
Wayne G. Karges
Canada
Name:

Mr. Wayne George Karges

From:

E-mail:

hotmail.com|morerum4me

ltinerary:

15 Days Standard of Beijing - Xian - Chongqing - Yangtze River Cruise - Yichang - Shanghai

Date:

11/14/2011