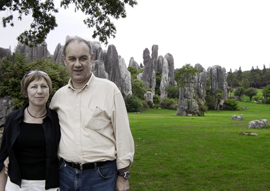 Restaurants and meals were quite OK but without a certain highlight. Since we are living in China, we might already be a little bit more familiar to Chinese food than most of other tourists coming from abroad. So, we expected some more typical local specialities which we did not know, yet. The only exception was the Restaurant of Weihai Hotel Kunming.
With respect to the tour guides, we have absolutely no cause to complain. All the three guides were very kind and their working attitude was perfect. They all spoke a very good English and their knowledge about the places we visited remarkebly and we got a lot of interesting informations.
All our drivers were friendly, helpfull and did not give us any reason to complain. Also the cars were OK and kept clean all the way.
Although all of our guides during that tour were outstanding, we especially want to thank our guide Rose from Kunming. Her warm-hearted welcome and care, her open mind, combined with a sound and wide knowlegde about all the things we were interested in, as well as her excellent English made our stay in Kunming really memorable.
We, for the first time, booked a tour to Kunming, Dali and Lijiang in April 2008 with ChinaTour360 and we were highly satisfied both with the communication between ChinaTour360 and us and the perfect organization of our trip. Transportation, accommodation and foot did not give cause for any complaints. And in all places we visited we met well educated, knowlegdeable and very friendly tour guides. So we really enjoyed our trip and we will definitely book our next one with ChinaTour360, too.
Name:

Mr. Dr. Ferstl, Klaus Karl Johann & Ms. Dr. Ferstl, Annemarie Karin

From:

Germany

ltinerary:

8 Days Luxury of Kunming - Dali - Lijiang - Kunming

Date:

5/12/2008